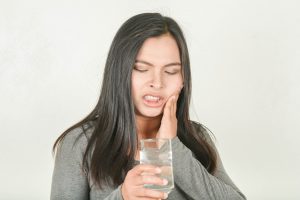 It's normal for your teeth to change color over the years from age, drinking a lot of coffee, or smoking. If you're like many people, you've likely tried one or two OTC whitening treatments to resolve stains and discoloration. Not only did they not provide the results you wanted, but they may have left your teeth sensitive. Contrary to what you might have heard, pain after a whitening treatment isn't necessary. Here's how you can reach your goals while avoiding any discomfort by visiting a cosmetic dentist in Coppell.
What Causes Teeth Whitening Sensitivity?
You've heard the saying "pain is beauty," but that shouldn't be the case with teeth whitening. Both professional and over-the-counter whitening products contain hydrogen peroxide as the active ingredient. If you have a sensitivity to peroxide, your teeth may ache after using a whitening product.
In more serious cases, the pain can be caused by an untreated oral health issue that has been aggravated by the treatment, like a cavity. No matter the reason, you can avoid any discomfort and potential oral health risks by skipping OTC products. Instead, visit your cosmetic dentist for a safe, comfortable solution to get your teeth as much as 8 shades whiter with results that can last for years with the right care.
How Can My Cosmetic Dentist Prevent Tooth Sensitivity?
Your dentist takes several precautions to avoid any sensitivity during or after your treatment. They'll begin by examining your teeth and gums to ensure you don't have any untreated dental issues, like tooth decay. If they find a problem, they'll quickly treat it, so you can safely move forward with improving your smile.
After learning more about your situation and the results you want, your dentist will create a personalized treatment plan using the right products, peroxide level, and application time that's right for you. If you're prone to hydrogen peroxide sensitivity, they'll use a lower level of the ingredient and a shorter application time to reveal a brighter smile without the pain. Your dentist may also recommend using a desensitizing toothpaste before and after your whitening procedure.
To further safeguard your smile, the whitening agents used by your dentist are specially formulated to minimize the risk of discomfort. In the rare event you experience sensitive teeth, it will only last for about 24 hours. During this time, it's best to skip overly hot or cold foods and drinks to enjoy your new smile without worrying about a sudden twinge of pain.
Get a Stunning Smile Today
Stop wasting time and money on OTC whitening products. Choose a safe, comfortable solution to revamp your smile. See if you're a candidate for teeth whitening today.
About Dr. Chris Gibson
Dr. Gibson earned his dental degree at the University of Texas Health and Science Center, and he has completed additional training in complex treatments, like implant and cosmetic dentistry. His diverse qualifications allow him to create the exact smile you want. Contact our office today to schedule your consultation.