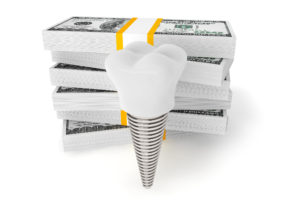 With over 5 million dental implants placed each year in the United States, implant treatment is one of the most popular ways to replace missing teeth. However, many men and women hesitate when they first see how much dental implants cost. It is true that implants typically DO cost more upfront than traditional alternatives like bridges or dentures. However, that initial figure does not tell the whole story! In fact, in many cases, dental implants are actually the more economical tooth replacement choice over time. Keep reading below to find out how dental implants in Coppell can actually save you money in the long run.
Initial Cost Vs Total Cost
When considering options to replace your missing teeth, it is very important to think about not just the initial cost but the total cost.
For instance, traditional bridges and dentures often carry a lower initial cost compared to dental implants. However, that initial price tag does not include the cost of replacing your dental restorations every 5 to 15 years for the rest of your life. Ongoing maintenance costs, such as dental adhesives or periodic denture relining, are also not included in the initial price of traditional dental prosthetics.
In contrast, dental implants can easily last for decades with proper care. In addition, they typically do not require the same type of ongoing as traditional dentures. In this way, dental implants often represent a savvy long-term investment in your smile!  
The Hidden Costs of Alternatives
The need to replace a traditional bridge or denture every 5 to 15 years is not the only additional cost that many people fail to consider. There are other hidden costs involved with traditional restorative treatments, such as:
Convenience costs: Unlike dental implants, dentures must be removed on a nightly basis to soak and brush.
Health costs: Traditional bridges and dentures to not stimulate the jawbone like natural teeth or implants. This lack of stimulation can lead to jawbone deterioration, which can make your face appear sunken and aged.
Social costs: Many people who wear dentures constantly worry about their false teeth slipping when they eat, laugh or talk. This is never an issue with dental implants!
When factoring in these hidden quality-of-life and oral health costs, dental implants in Coppell are clearly the superior option to restore one's smile.
How to Take Advantage of Your Insurance Benefits
Finally, it is important to realize that although many dental insurance plans do not cover dental implants, you may still be able to take advantage of your insurance benefits to reduce the costs of related treatments.
For example, if you need gum disease therapy or a bone graft before getting implants, your insurance may cover these procedures. The initial consultation may also qualify for dental insurance coverage.
In the end, the final cost of dental implants depends on a number of factors, including how many teeth need to be replaced and whether any preliminary treatments are necessary. The best way to get an accurate cost estimate for implants that meet your unique needs is to schedule an initial consultation with an experienced dentist in Coppell.
About the Author
Dr. Brandon Horton leads the expert team at Sandy Lake Dental & Orthodontics in providing quality oral care to the Coppell community. Together, they offer start-to-finish implant treatment to patients who want to restore their smiles for many years to come. To learn more about the benefits of dental implants, visit the Sandy Lake Dental & Orthodontics website or call 972-393-7348.