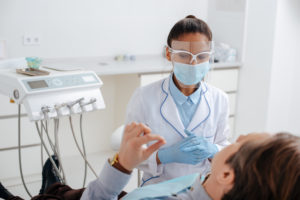 You're probably used to your dentist doing all the question-asking during your appointments: How do your teeth feel? Are you flossing regularly? However, it shouldn't be a one-way conversation! Visiting your dentist gives you an excellent opportunity to learn more about your oral health and how to best care for your smile. Here are eight important questions you should ask your Coppell dentist the next time you see them.
1.) What Can I Do to Improve My Smile?
This is a good question because it's broad—it allows your dentist to provide detailed feedback that's specific to your unique circumstances.
2.) What Dental Products Should I Be Using?
There are a variety of toothbrushes, toothpastes, floss, and mouthwashes that offer different benefits. Your dentist can recommend which dental products would boost your daily dental care routine.
3.) How Are My Dental Fillings and Crowns Doing?
While dental fillings and crowns are a reliable, long-lasting way to repair teeth, they will need to be replaced eventually. Ask your dentist what condition yours are in and how much longer you can expect them to last.
4.) Are My Medical Records Up to Date?
Have you recently been diagnosed with a new medical condition or begun taking a new medication? Your dentist needs to know so they can provide the most effective care an avoid potential complications.
5.) Am I At a Higher Risk for Any Oral Health Issues?
There are certain factors that can put some people at a higher risk of developing issues like cavities and gum disease. If this is the case, your dentist can help you make a plan to keep your oral health on track.
6.) Why Does My Breath Smell Bad? Why Are My Teeth Sensitive?
If you've begun to notice new, unusual, or bothersome dental symptoms, speak up! Even small issues like bad breath, dry mouth, and sensitive teeth can be an early warning sign of serious problems. Bring up any recent changes in your mouth to help your dentist detect issues as early as possible.
7.) How Can I Best Correct My Cosmetic Dental Flaws?
Your dentist wants to help your smile look and feel its best. If you have dental imperfections like chips, cracks, or stains that you'd like to fix, your dentist can help you pick out a cosmetic service that's right for you.
8.) When Should I Come Back for My Next Checkup?
It can be easy to forget about your next dental appointment, so you should schedule your next visit before you leave the office. While most people should get a dental checkup every six months, your dentist may suggest coming in more or less often depending on your unique situation.
At your next dental checkup, don't feel nervous about speaking up and asking questions. Your dentist will be delighted to see you taking an interest in your oral health and will be more than happy to teach you about caring for your smile.
About the Practice
At Sandy Lake Dental & Orthodontics, we strive to make optimal oral health an achievable goal for everyone. With a comprehensive menu of dental services, treatments for smiles of all ages, and two in-house specialists, our talented and experienced dental team aims to meet all of your family's oral health needs under one roof. We also have Saturday appointments available as well as block scheduling to make caring for your loved ones' smiles as easy as possible. If you have more questions, feel free to contact us via our website or at (972) 393-7348.