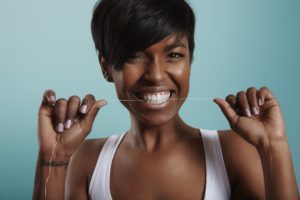 No one's breath smells its best first thing in the morning or after drinking a cup of coffee. However, chronic bad breath, or halitosis, can drastically reduce your self-confidence and ability to enjoy social gatherings. In fact, halitosis is the third most common reason that people seek dental care, right after tooth decay and gum disease. Read on as your Coppell dentist explains how you can keep your smile clean and fresh with one simple addition to your daily dental care routine: flossing!
What Causes Bad Breath?
Knowing what is causing your bad breath plays a key role in determining how to combat it most effectively. Halitosis can be the result of:
Regularly eating fragrant foods like garlic, onions, and seafood.
Plaque and tartar buildup due to poor oral hygiene.
Medications or health conditions that cause dry mouth.
Oral health issues like tooth decay, gum disease, and mouth infections.
Systemic health concerns like acid reflux, diabetes, or liver disease.
How Can Flossing Prevent Bad Breath?
Brushing your teeth for two minutes twice a day cleans away most of the lingering particles in your mouth, but not all of them. Experts estimate that on its own, toothbrushing only removes about 60% of your oral plaque and bacteria. The rest hides in places where your toothbrush's bristles can't reach, like just underneath your gumline and between your teeth. As these particles accumulate and break down leftover bits of trapped food, they release volatile, stinky gases that lace your breath with a foul odor. Additionally, this buildup increases your risk of tooth decay and gum disease, which contribute to your bad breath as well.
Thankfully, you can clean out these tight spaces easily every day by flossing. Dental floss is thin enough to reach between your teeth and gums and sturdy enough to dislodge plaque, bacteria, and bits of food. Just like brushing your teeth, flossing should be done every day to keep these stinky particles from collecting in your mouth.
Easy Tips for Proper Flossing
Flossing will be less effective at keeping your breath fresh if not done properly. Here are some tips to make the most out of your new healthy habit:
Try using a waxed or flavored floss to make flossing more enjoyable.
Keep the container somewhere you'll see it every time you brush your teeth.
Use 18 inches of floss at a time, and never reuse an old piece of floss.
Remember to floss gently, curve around each tooth, and floss just beneath the gumline.
You can also use an interdental brush or threaded flosser approved by the American Dental Association if you find flossing difficult.
If you're embarrassed by how your breath smells, flossing regularly may be the key to regaining your fresh, confident smile! However, bad breath can sometimes be an indicator of an issue that needs to be looked at by a professional. If your halitosis persists even with a thorough dental routine, your Coppell dentist can help you identify the underlying cause and how to get your oral health back on track.
About the Practice
At Sandy Lake Dental & Orthodontics, smiles of all ages can get the specific, comfortable, and lasting dental care they deserve. With a team of highly trained specialists, they're more than happy to provide the families of Coppell, TX and the surrounding communities with a comprehensive menu of oral health services. If you're suffering from halitosis, they encourage you to contact them right away via their website or at (972) 393-7348.