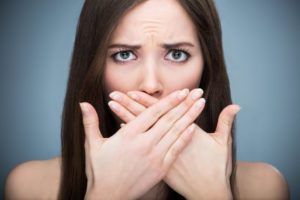 Bad breath is an issue that we've all dealt with. While for many of us it's only a problem we have after waking up in the morning or eating certain foods, for some of us it's a daily struggle. Even though brushing your teeth can help temporarily, sometimes the smell seems to linger all day. There's no need to feel embarrassed any longer. Your dentist in Coppell is happy to help you get to the root of your dilemma and give you some helpful tips to tackle unpleasant odors.
Why Do I Have Bad Breath?
There are many different causes of bad breath. Sometimes it can be difficult to determine what the issue may be. Some of the possibilities that you may be experiencing bad breath are:
Dry Mouth: When your mouth is lacking saliva, leftover food particles and bacteria cannot be washed away and therefore begin to breakdown. This causes an unpleasant odor.
Food: Certain foods and beverages are known to cause bad breath. Garlic, onions, and coffee are just a few that are known to have scents that linger.
Tooth Decay: Cavities and other oral health conditions can cause bad breath.
Medical Conditions: Acid reflux, strep throat, sinus infections, and other issues can contribute to bad breath.
Mouthwash: While it can temporarily get rid of odor, alcohol-based mouthwash can dry out your mouth and ultimately lead to bad breath.
Tobacco: Smoking tobacco not only stains your teeth; it causes bad breath that is difficult to eliminate.
How Can I Combat Bad Breath?
Certain changes can be made to your lifestyle to eliminate bad breath. Here are some that many find effective:
Flossing: Sometimes brushing your teeth cannot remove all food particles. Flossing can help clean the hard to reach spots and prevent bacteria growth.
Staying Hydrated: Drinking plenty of water helps wash away food particles and prevents dry mouth.
Sugar-free Gum: Chewing gum helps to keep your mouth hydrated by simulating saliva.
Foods: Certain fruits and vegetables can help keep your teeth clean. Try eating more foods like apples, celery, and carrots.
Cleaning Your Tongue: If frequent brushing and flossing doesn't seem to be reducing the odor, maybe your tongue is the source. Just like your teeth, your tongue can accumulate food residue and bacteria. Tongue scrapers can help you get rid of this problem and can be found fairly cheap at pharmacies.
Alcohol-free Mouthwash: Using mouthwash without alcohol can freshen your breath without increasing your risk of dry mouth.
Quit Smoking: Giving up smoking can be difficult, but improving your breath is one more good reason to quit.
Regular Dental Cleanings: Regular cleanings at the dentist can help remove odor causing bacteria.
If you are struggling to find the source of your bad breath, talk to your dentist. They are happy to help you tackle the issue so you can live without fears of bad breath. Together, you can get to the root of the problem.
About the Practice
Sandy Lake Dental & Orthodontics is located in Coppell, TX. Our team of 7 dentists offers a wide variety of services and would be happy to help you with any concerns you have about your breath. We have early hours and are open on Saturdays so even the busiest of people can fit dental care into their schedule. To learn more, visit our website or call (972) 393-7348.