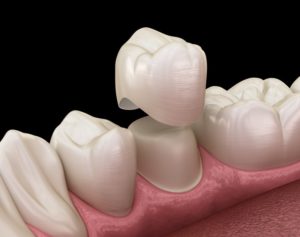 You may have heard of dental crowns before – the tooth-shaped caps that slip over teeth to protect and restore them. Maybe you're interested in getting one. After all, they can be used to fix a wide variety of issues with your teeth. However, they're not a one-size-fits-all solution. For example, if you're missing teeth, maybe you need a dental implant instead. Let's look at when you do and don't need a dental crown in Coppell.
What Are Dental Crowns and What Are They Used For?
A dental crown, also sometimes known as a cap, is a restoration that fits snugly over a tooth. Usually it's made of tooth-colored materials like porcelain or ceramic, which can be customized to fit the color of the rest of your smile so that they blend in seamlessly. Crowns are typically used to cover a tooth that has been damaged due to injury or decay. Sometimes it may also simply be slipped over a tooth to improve its appearance. For example, a tooth may look stubby or stained. A dental crown can make it look beautiful again in no time. Although crowns are great for correcting several issues at once, they are not always the ideal treatment for everyone.
What Situations Might Warrant Other Procedures?
If you're missing a tooth, a crown may not be all that's needed to fix the issue. You might need a dental implant in Coppell. A dental implant is a screw-shaped titanium post that is surgically inserted beneath the gumline to replace the structure of a lost tooth root. Then, over a period of a few months, the jawbone actually grows around the implant until it essentially becomes a part of your own anatomy. After that process is complete, your dentist may then top the implant with a dental crown to make it look and feel just like your natural tooth did. Sometimes, though, he or she may opt for a bridge instead.
A dental bridge acts as a prosthetic to restore an entire row of missing teeth. Several crowns are attached together and anchored onto your remaining teeth. This gives your smile the appearance of being full and natural. In addition, they are fully functional in helping you bite and chew with no problem.
If you're considering getting a dental crown, ask your dentist if it truly is the best solution for you. You might find yourself needing a bridge or dental implant instead.
About the Author
Dr. Brandon Horton is a dentist in Coppell, TX who graduated with Honors in 2005 from the University of Tennessee's dental school. Following his service in the U.S. Air Force, he now owns Sandy Lake Dental & Orthodontics. He provides crowns, bridges, and dental implants to help solve whatever dental issue you may have. To learn more about which option is the best for you, contact Dr. Horton by clicking here or calling (972) 393-7348.