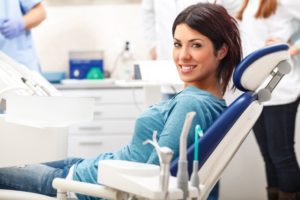 Have you ever heard of the expression, "Two heads are better than one?" The same can be said for dentistry. You and your loved ones have different smiles, which is why it makes sense to have different dentists who specialize in your specific needs. That's why at Sandy Lake Dental & Orthodontics, we have not 1, but 5 expert dentists on staff to provide you and your family with quality and consistent care. Keep reading to learn more about the unique benefits of having multiple dentists in Coppell.
Various Quality Dental Services
Have you ever been to a dentist only to have them send you to yet another office because they don't offer the service that you need? This is not only inconvenient, but it leaves you blindly trusting a practice that you've never been to with your more extensive dental work. That's why at Sandy Lake Dental & Orthodontics, we have a team of 5 dentists under one roof. This creates a trusting relationship with our practice, and we won't have to send you elsewhere when you need more advanced treatment.
Now, with our 5 dentists on hand, you can receive your routine checkups and cleanings as well as wisdom tooth extractions all at the same practice. And, if you have a dental emergency or need to replace multiple teeth, we have the knowledge and technology to provide you with the quality care that you deserve.
Orthodontist on Staff
Many times, patients are told that they need braces and are recommended to an orthodontist across town. However, Dr. Robert Gallagher is a board-certified orthodontist who treats patients in our same location! Gone are the days of blindly trusting someone to straighten you or your child's teeth. Our dental experts examine each patients' smile with care to see if they could benefit from orthodontics before sending them over to Dr. Gallagher.
Passion & Background
An added advantage of visiting a dental practice with 5 dentists is that each member of our team has different passions and backgrounds. This allows us to provide our patients with more personalized care, matching you with a professional that you can feel comfortable talking to and asking questions. Additionally, if you have specific health concerns like chronic problems with your gums, we may recommend that you see Dr. Monica Bazan, our in-house periodontist (expert in treating gums and supportive tissue).
Now that you know more about the advantages of visiting a dental office with 5 dentists, what are you waiting for? Call Sandy Lake Dental & Orthodontics to get started on a better way to practice oral healthcare.
About the Practice
At Sandy Lake Dental & Orthodontics, we have 5 dentists, including an orthodontist, periodontist, cosmetic dentist, and family dentist. This allows us to treat smiles of all shapes and sizes with the care that our patients deserve. For any questions, our dental team can be contacted through their website or by phone at (972) 393-7348.