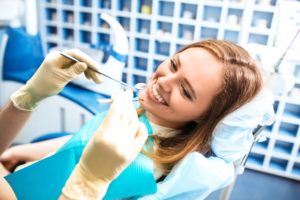 For the last few days, you've been waking up with a searing toothache. You weren't planning on scheduling an appointment with your dentist, but after it started affecting your work, you decided it was for the best to get it checked out. As you sit in your dentist's chair, they're sharing that you'll need root canal therapy, the worst news you could've received. Since you were little, you feel like everyone's always told you how terrible and painful the procedure is. Getting a root canal in Coppell isn't as bad as you think, though. This May is National Save Your Tooth Month, so take the time to learn about how salvaging your natural tooth by getting it treated is your best option!
Why Would You Need a Root Canal?
The main symptom that you may need a root canal is a severe toothache. If you notice your tooth beginning to get darker or experience sensitivity to hot and cold, it's best to contact your dentist to determine whether you need immediate treatment. Some common causes of root canal therapy include:
Dental Decay: When decay has started to penetrate your tooth and begins to cause pain, you may need intervention.
Damage: Cracks, chips, and fractures in teeth can be another cause of severe pain and result in a root canal.
Infection and Disease: When severe decay has penetrated your outer tooth, it could lead to your inner pulp becoming infected. If infections aren't removed or treated, they can spread to other areas of your mouth and body.
How Can Getting a Root Canal Help?
Getting a root canal can help save your natural tooth, which is the wisest choice for your future oral health. You'll be able to maintain your beautiful natural smile, eat all the foods you normally would, and reduce your need for dental work later on. Here are some benefits of root canal therapy:
Despite what you've heard, root canal treatment is a virtually painless procedure that leaves you with less discomfort rather than more. Because of modern dental advancements, patients who have this treatment done often describe it as pain-free, especially compared to the alternative tooth extraction procedure.
You'll be left with a more appealing smile when you have a root canal. Your dentist in Coppell will fortify your affected tooth by placing a crown over the top of it, so it will blend in with the rest of your natural smile.
It's efficient and cost-effective because most dental insurance plans will cover endodontic treatments. Additionally, you won't have to go to as many follow-up appointments compared to if you got a tooth extraction.
What's the Process?
Root canals are straightforward procedures that may take a couple of visits to your dentist. Your dentist will numb and isolate your affected tooth. Once that's done, they'll use small tools to access your inner tooth and clear the infected pulp inside. They'll then rinse it out and kill any remaining bacteria. Once it's been cleaned and dried your dentist will fill it with a rubber-like material and protect and strengthen it by placing a crown on top.
After your root canal procedure is completed, you'll be surprised at how much better you feel! In honor of National Save Your Tooth Month, visit your dentist to talk to them about how getting a root canal could be the best option for you! You won't regret the results and you can continue to enjoy a fully in-tact smile.
About the Practice
At Sandy Lake Dental & Orthodontics, you can choose to be treated by any one of our 5 experienced and knowledgeable dentists. Our dentists focus on patient-centered care rooted in building long-lasting connections with each person that walks through the doors. With decades of collective experience, you can feel confident and comfortable with the treatment you're receiving. For any questions or to schedule an appointment visit our website or contact 972-393-7348.